Out of sight, out of mind is often the way for feet during the winter months, and it's only when the summer approaches that people often panic when they realise how neglected their feet have become. Time for some Summer Foot Care!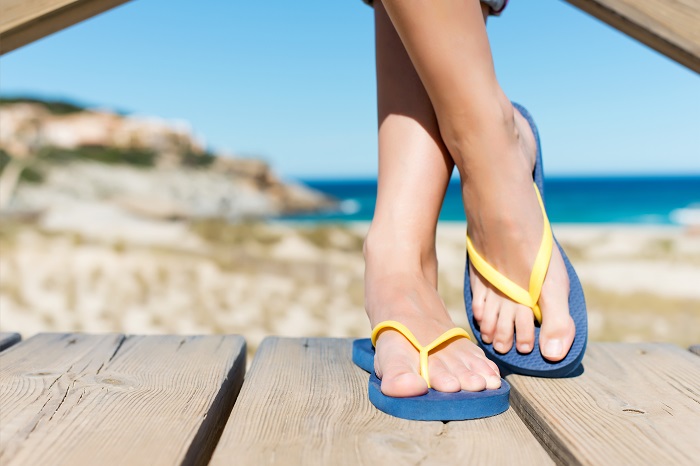 The skin on the soles of the foot is four times thicker than anywhere else on the body, and can often become dry if not looked after properly. This is due to excess sweat drying on the skin within hosiery and footwear. Dry skin can lead to other problems including cracked heels and calluses which can become very sore and painful. This can also provide a port of entry for bacteria, which can lead to major infections and further problems, which can then lead to hospital admittance if overlooked. Fortunately, there are a few simple tips that can help you ensure your feet are in tiptop condition for the summer, and allow you to wear your sandals with pride!
Try these suggestions:
Exfoliate your feet on a regular basis with an exfoliator or make your own by mixing caster sugar and baby oil
Keep your feet clean and dry, ensuring that after bathing you dry your feet thoroughly
Prior to washing your feet use an emery board to remove the dry excess
While washing your feet use a pumice stone to rub away the rough areas
Use a lotion or moisturiser every night before bedtime. This time of day is important as while in bed the moisturiser will be absorbed at a higher rate
For very dry feet, apply Vaseline and then put socks on overnight to help the moisturisation process work. In extreme cases rap the feet in cling film after application of Vaseline prior to putting on the socks.
Cuticles protect the nail bed: if they dry out, so will your nails, it will also allow fungal, bacterial and viral infections into the nail growth area. If you don't have cuticle cream you can use our corn wraps or failing that lip balm works just as well, otherwise a good moisturiser will do the job.
To help relieve some of the pain associated with cracked feet, insert a heel cushion, or a full length insole such as the Profoot Double Cushion, to provide extra thick cushioning.
If in doubt always consult a qualified Podiatrist or Chiropodist for further assistance.
Some Profoot products to help with Summer Foot Care: