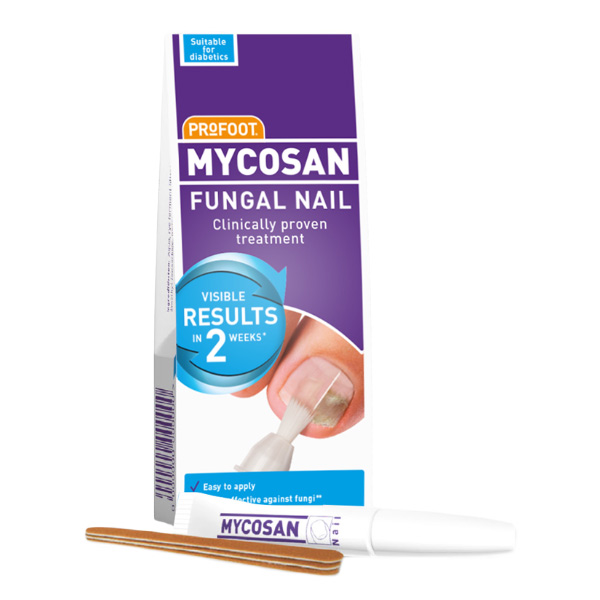 Ideal for Fungal Nail
Visible results in 2 weeks*
Are you tired of hiding your feet because of fungal nail? Profoot Mycosan Fungal Nail treatment is here to help!
One in every four people in the UK is affected by fungal nail, and it can be a stubborn problem to treat without the right help. Mycosan Fungal Nail treatment is designed to tackle the root cause of the problem.
Our Mycosan Fungal Nail is a complete treatment set that's designed to help you see visible results in just two weeks*. The set includes a unique serum (5ml) in a user-friendly tube with a specially designed brush, 10 single-use nail files, and a treatment schedule. Mycosan is proven to be effective against fungi that cause fungal nail and provides an easy and fast solution* to eliminate those embarrassing, discoloured, and thickened nails.
Don't let a fungal nail hold you back any longer. Get Profoot Mycosan Fungal Nail today and start walking around carefree and confident again!
Key Features:
Visible results in 2 weeks*
Complete treatment set
Proven effective against fungi that cause fungal nail
Easy and fast solution*
Available at the following stores:
Find your local Pharmacy
Treats & Prevents Fungal Nail
Mycosan; an effective and fast treatment of fungal nails, developed to distribute a specific dose of the active substances deep into the nail where the fungus has to be treated effectively.
The Mycosan Fungal Nail Treatment forms a layer over the nail which protects the nail against fungi. In this way, healthy nails are protected against the fungi and the fungus can be killed.
Treatment:
Apply Mycosan twice a day for a period of 4 weeks, then once a day until the affected area has grown out. You should start filing the nail with the files provided after 2 weeks.
Prevention:
Apply Mycosan Fungal Nail once a day to the nail. Mycosan also protects the surrounding nails and prevents re-infection after a previous contamination.
Treats and prevents fungal nail (onychomycosis)
Simple and easy to use, complete course of treatment
Creates a protective barrier to avoid spread of fungal nail
Clinically tested and proven effective
Suitable for diabetics
For use by adults and children 4 years+
*92% of the users during a consumer study saw within 2 weeks an improvement of the nail surface.
Learn more about Footcare
Follow the buttons below for articles on how to look after your feet.