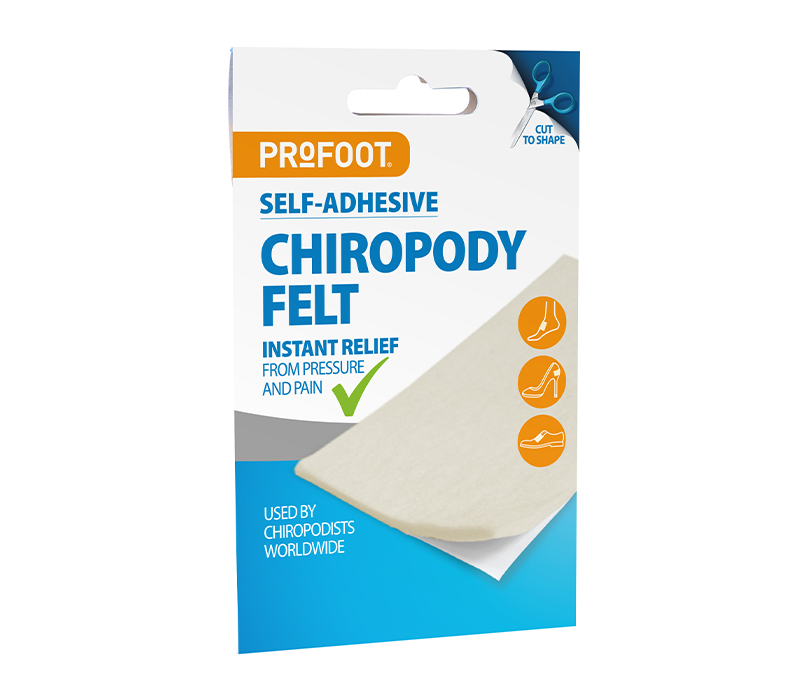 FOOT COMFORT FOR BUNIONS, BLISTERS, CALLUSES AND MORE
Profoot Chiropody Felt is the perfect solution for relieving and redistributing pressure and friction on any area of the foot. This medical grade super-soft padding can be easily cut to any shape and adhered to either the skin or the inside of footwear.
The adhesive is hypo-allergenic and suitable for sensitive skin. You'll experience instant pressure and pain relief with this self-adhesive padding, which is used by chiropodists worldwide.
Each pack contains one sheet of Chiropody Felt, which is one size fits all. For larger sizes, check out Chiropody Felt XL.
Key Features:
Instant pressure and pain relief
Medical grade super-soft padding
Self-adhesive which is kind to skin
Used by chiropodists worldwide
Cut to shape
Try them today.
Available at the following stores:
Find your local Pharmacy
How to use Chiropody Felt:
1. Clean and dry foot.
2. Cut felt to desired shape using sharp scissors
3. Peel backing paper off.
4. Apply to either skin or inside of your footwear and press firmly
5. Re-apply as necessary.
Warnings:
If pain, numbness or irritation occurs, discontinue use immediately. Not to be used as a bandage on broken skin.
Keep out of reach of children.
Learn more about Footcare
Follow the buttons below for articles on how to look after your feet.