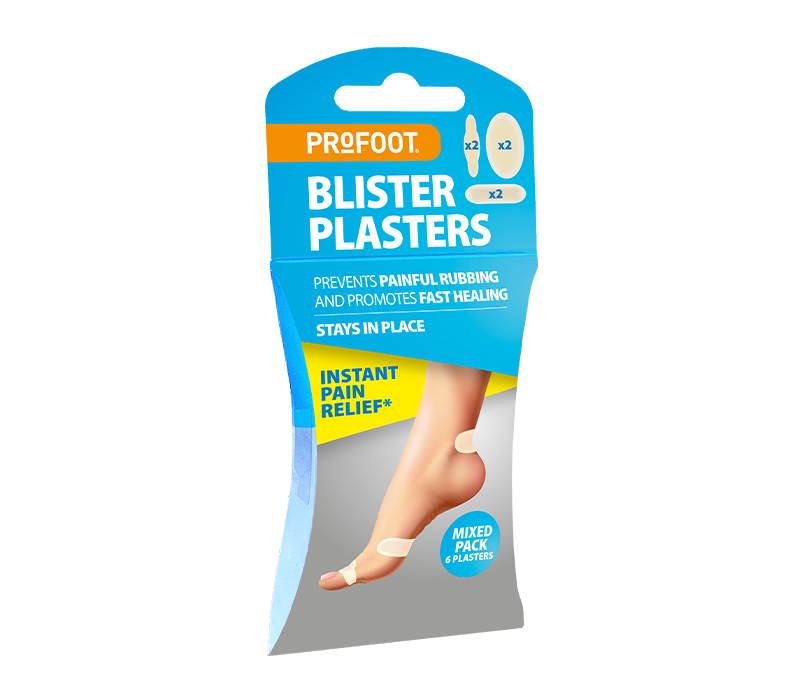 Ideal for Blisters
Our Profoot Blister Plasters Mixed Pack is the perfect solution for instant pain relief from blisters. These hydrocolloid plasters work like a second skin, removing the pain caused by rubbing on the blister while protecting the damaged skin from moisture, dirt, and bacteria. They even absorb any fluid from the blister, creating an optimal environment for healing.
Our Mixed Blister Plasters are versatile and can be used on existing blisters or red skin before a blister has even formed. Hydrocolloid dressings are known to assist in the management of pressure wounds, with key elements such as the production of a moist wound environment, absorption of wound fluid, facilitation of autolytic debridement, provision of a barrier to micro-organisms, and pain management.
Each pack of Profoot Blister Plasters Mixed Pack contains six plasters in three different types: 2x Oval, 2x Universal, and 2x Long. Our blister plasters offer instant relief from painful blisters, prevent painful rubbing, and are designed to stay put – making them perfect for sports and other activities.
Each pack contains: 6 plasters in 3 different types – 2x Oval, 2x Universal and 2x Long
Key Features
Instant relief from painful blisters
Prevents painful rubbing
Stays stuck – great for sport
Available at the following stores:
Find your local Pharmacy
How to use Blister Plasters Mixed Pack:
Clean the affected area and dry thoroughly. If the blister has burst, disinfect using a mild antiseptic. Remove the glossy paper side and apply plaster over the affected area without touching the adhesive side.
Make sure to remove the top paper. Leave the plaster in place until it loosens naturally.
Warnings:
Do not use on infected wounds.
If you have diabetes or poor circulation, please consult a doctor or chiropodist before using. If the blister fails to heal or the surrounding skin becomes red and swollen, consult your doctor or pharmacist.
Keep out of reach of children.
Learn more about Footcare
Follow the buttons below for articles on how to look after your feet.