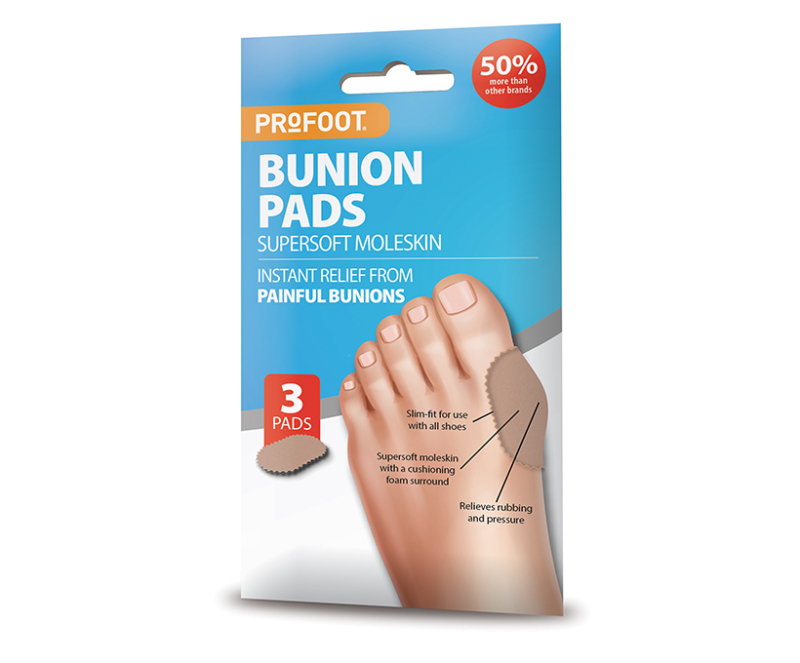 Perfect for Bunions
If you have bunions, you know how uncomfortable they can be. That's why at Profoot we've created our Bunion Pads with a double layer of super soft moleskin and cushioning foam. These pads can help reduce the rubbing and pressure that causes pain.
Our pads have a slim fit design, so they can be worn in all your shoes and easily conform to the shape of your foot. The hypo-allergenic adhesive we used in the pads is gentle on your skin, ensuring that you can wear them comfortably for extended periods.
Each pack of our bunion pads contains 3 disposable pads, making it easy to keep them on hand for whenever you need them.
Try our bunion pads today and feel the difference!
Key Features:
Hypoallergenic adhesive
3 disposable pads per pack
Discreet appearance for low-cut shoes
Key Features
Hypoallergenic adhesive
Contains 3 disposable pads
Discrete appearance means they can be worn with low-cut shoes
Available at the following stores:
Find your local Pharmacy
How to use Bunion Pads:
Before use please ensure that feet are both clean and dry.
Remove the Bunion Pad from the backing and place the pad centrally over the bunion, with the adhesive side to the skin. Press down to ensure the best adhesion.
Warnings:
If irritation or discomfort occurs, discontinue use immediately and consult a medical professional.
Keep out of reach of children.
Learn more about Footcare
Follow the buttons below for articles on how to look after your feet.