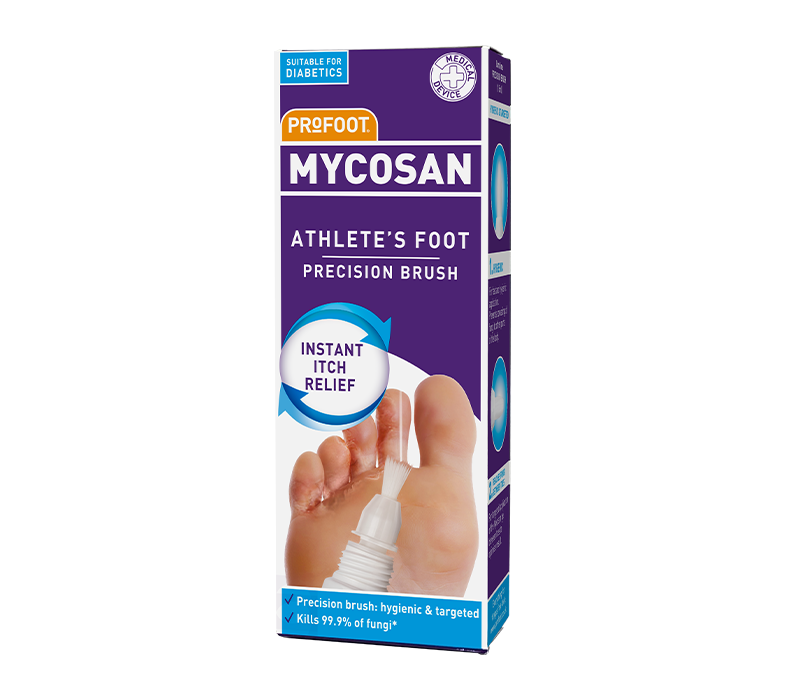 Mycosan Athlete's Foot Treatment: Targeted, Fast-Acting Relief
Eradicate Athlete's Foot Symptoms Effectively
Say goodbye to the persistent and uncomfortable symptoms of athlete's foot with our Mycosan treatment. Engineered for precision, our treatment combats itching, burning, cracking, redness, flaking, and odour. This advanced solution is designed with your safety in mind, causing no side effects and suitable for a wide range of users, including diabetics and children over four.
Innovative Precision Brush for Hygienic Application
Mycosan is equipped with a state-of-the-art, hygienic precision brush, facilitating targeted and easy application. This design ensures that the treatment is applied directly to the affected areas, avoiding unnecessary waste and enhancing the effectiveness of the product.
Potent Formula with Proven Efficacy
Our powerful formulation eradicates 99.9% of fungal agents, effectively halting the spread and preventing recurrence. Not only does it provide instant relief from discomfort, but it also aids in the regeneration of skin, contributing to long-term foot health.
Dual-Effect for Immediate and Lasting Relief
Mycosan is more than just a quick fix; it offers a dual-effect solution. Experience immediate alleviation from irritating symptoms while also promoting the healing and regeneration of damaged skin.
Discover the relief and comfort you deserve with Mycosan Athlete's Foot Treatment. Available at select stores, it's the solution for healthy, happy feet. Try it today and step into comfort.
Have a fungal nail? Try Mycosan Fungal nail treatment!
Available at the following stores:
Find your local Pharmacy
How to use the Mycosan Athlete's Foot:
Apply twice a day to the affected area until healing is complete.
Precautions for use:
For external use only.
Do not use if allergic to any of the ingredients. Squeeze tube gently and close the tube securely after use. Always read instructions before use.
Keep out of reach of children.
Ingredients:
Triacetin, PEG-6, alcohol denat.,glyceryl undecylenate, aqua, dimethyl isosorbide, rye ferment filtrate, menthol, menthyl lactate, hydroxypropylcellulose, climbazole (preservative), cetylpyridinium chloride.
Learn more about Footcare
Follow the buttons below for articles on how to look after your feet.