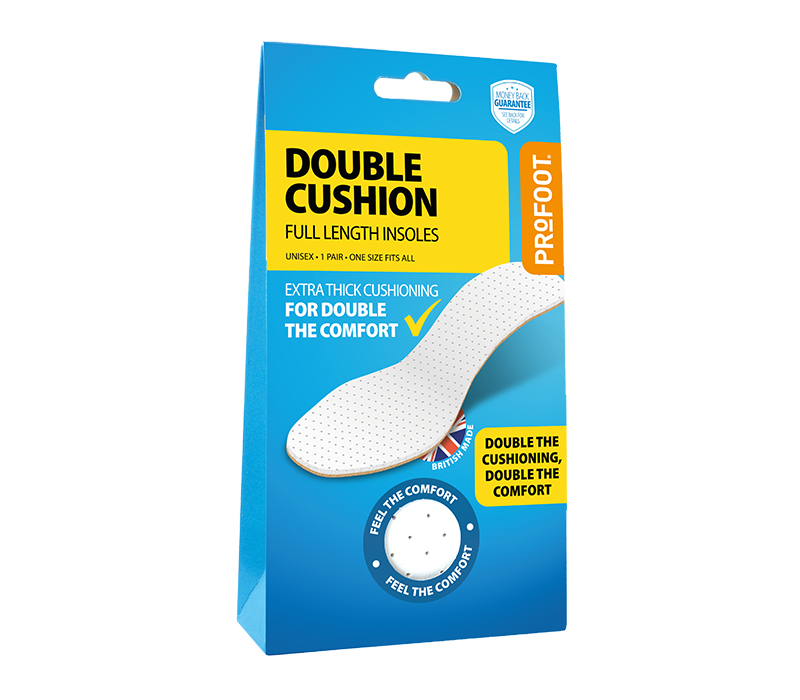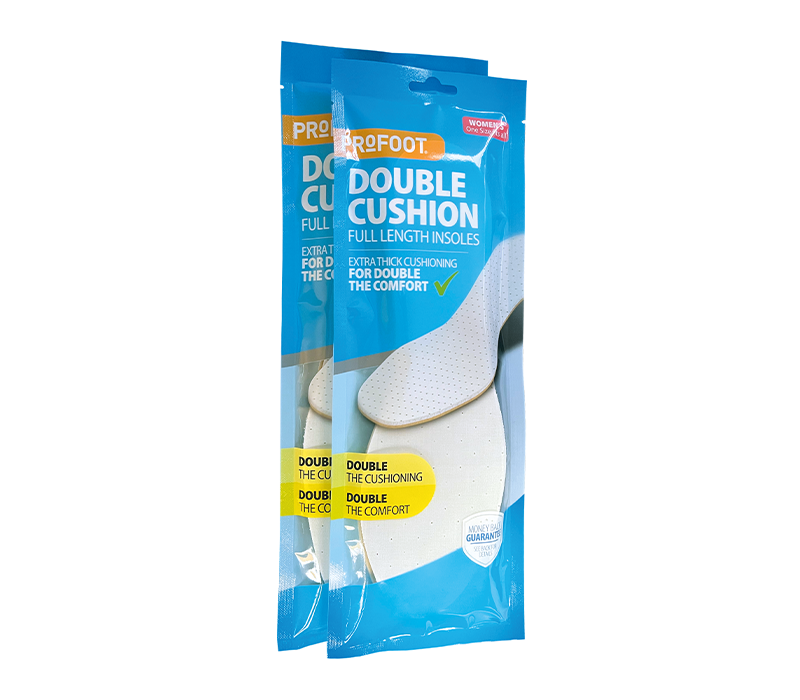 Ideal for Foot Discomfort
If you're looking for added comfort and cushioning for your feet, Profoot Double Cushion Insoles might be just what you need. These full-length insoles have a dual-layer design that improves shoe fit and promotes better ventilation for your feet.
Thanks to their extra-thick cushioning, our Double Cushion insoles offer a high level of comfort throughout the day. They also help to absorb perspiration, keeping your feet dry and comfortable. Plus, with a durable design that won't bunch or wrinkle, these insoles are built to last longer than regular cushion insoles.
Profoot Double Cushion Insoles are available in unisex and men's, women's sizes. Just cut to fit the insoles to improve the comfort of your footwear.
Whether you're looking for added cushioning for work, exercise, or everyday wear, our Profoot Double Cushion Insoles are a great choice and we offer a no-quibble 30-day guarantee if you are not happy.
1 pair per pack.
Sizes: Men's, Women's and Unisex
Our Double Cushion Insoles are available in different styles of packaging but don't worry they all have the same quality! Men's and Women's packaging are available from local pharmacies and online retailers. Unisex Insoles packaging are available from supermarkets, large multiples and some online retailers.
Key Features:
Double the cushioning of standard insoles
Double the comfort
Full length insoles
One size fits all (Unisex)
Male and Female sizes available
Cut to fit
Suitable all year round
No quibble 30 day guarantee
Available at the following stores:
Find your local Pharmacy
How to use Double Cushion Insoles:
Identify left and right insoles, this is printed on the bottom of the insoles. Place the insoles into your shoes, fabric side up.
If you need to you can trim with sharp scissors following the instructions printed on the bottom of each Double Cushion Insole.
Please be careful not to cut the insole too small.
Warnings:
Contains latex.
Care:
We recommend you replace your Insoles when they have eventually worn thin.
Money Back Guarantee:
Our Profoot Double Cushion Insoles are eligible for a full refund if returned within 30 days of purchase.
This guarantee does not affect your statutory rights.
Visit our Money Back Guarantee Page to learn more.
Learn more about Footcare
Follow the buttons below for articles on how to look after your feet.