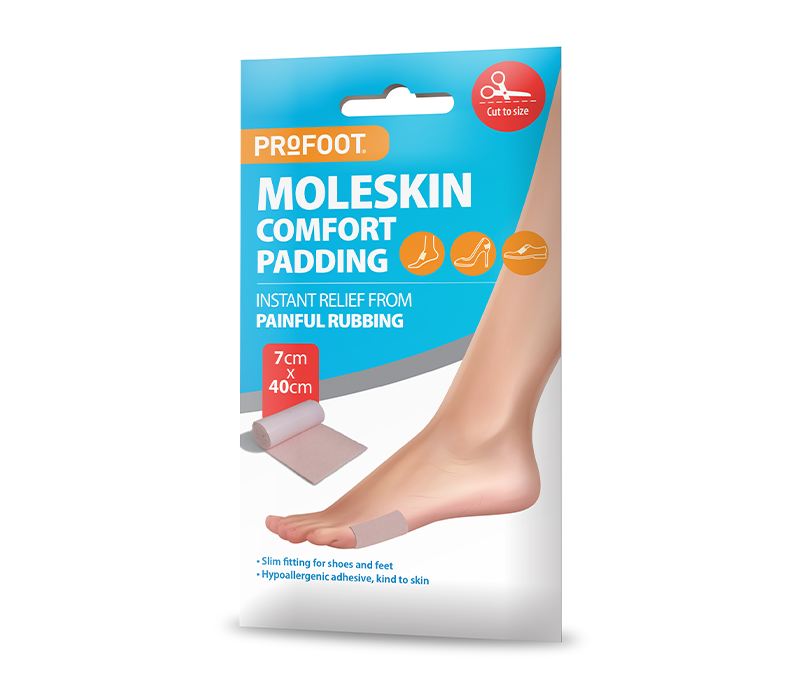 Ideal for Blisters, Bunions, Calluses and Foot Discomfort
Introducing Profoot Moleskin Roll – the perfect solution for foot discomfort caused by blisters, bunions, calluses, and rubbing. Our moleskin roll provides instant protection, pain relief, and comfort for your feet.
Each roll measures a large 7cm x 40cm and can be easily cut to size, providing you with slim padding that's suitable for both small and large areas of your foot or shoe. Our Moleskin Roll can be adhered to either the foot or shoe. The adhesive is hypo-allergenic.
Profoot Moleskin Roll effectively relieves friction, alleviates pain, and protects your feet from discomfort caused by rubbing.
Key Features:
Relieves friction
Slim Padding for shoes or feet
Hypoallergenic adhesive for sensitive skin
Cut to size
So why wait? Give your feet the relief they deserve and try Profoot Moleskin Roll today.
Available at the following stores:
Find your local Pharmacy
How to use Moleskin Roll:
1. Clean and dry the foot
2. Cut the moleskin to the desired shape using sharp scissors
3. Peel off backing paper
4. Apply Moleskin to either directly to the skin or inside your footwear and press firmly
5. Re-apply as necessary
Warnings:
If irritation or discomfort occurs, discontinue use immediately. Not to be used as a bandage on broken skin.
Keep out of reach of children.
Learn more about Footcare
Follow the buttons below for articles on how to look after your feet.