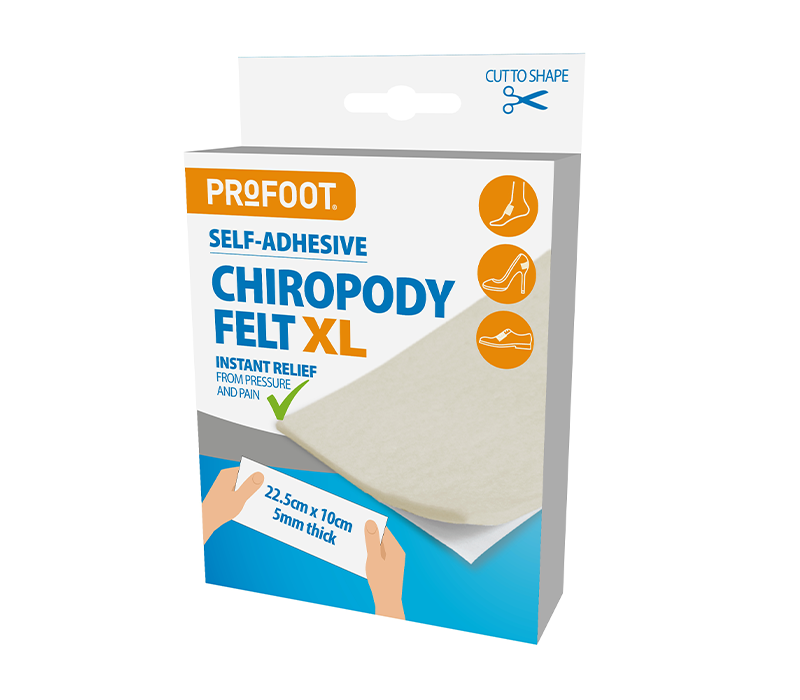 Our Self-Adhesive Chiropody Felt now comes in XL
Introducing our Profoot Chiropody Felt XL. This felt is specially designed to alleviate pressure and friction on any part of your foot, providing much-needed comfort.
With its generous size of 22.5cm x 10cm and a thickness of 5mm, our Chiropody Felt XL can be easily customised to fit any shape, making it an ideal choice for anyone It is safe and gentle for application on even the most sensitive skin thanks to the hypo-allergenic adhesive.
Whether you choose to apply it directly to your skin or inside your footwear, Profoot Chiropody Felt XL provides instant relief from pain and discomfort, helping you to stay on your feet for longer periods of time.
If your looking for the original Chiropody Felt check here.
Key Features:
Instant Pain Relief: Chiropody Felt XL provides immediate relief from foot pain and pressure.
Larger than the original: Easily trimmed to fit any foot shape.
Versatile Use: Suitable for use directly on the skin or inside footwear for continuous comfort.
Gentle on Skin: Made with hypo-allergenic adhesive, safe for sensitive skin.
Why wait? Try Profoot Chiropody Felt XL today and experience the difference for yourself.
Available at the following stores:
Find your local Pharmacy
How to use Chiropody Felt XL:
If applying to the foot make sure to clean and dry skin first.
Cut the Chirpody Felt Xl to the desired shape using sharp scissors.
Peel the backing off.
Apply the felt to either the skin or the inside of the footwear and press firmly.
Re-apply as necessary.
Safety Warning:
If pain, numbness or irritation occurs, discontinue use immediately. Not to be used on broken skin.
Keep out of reach of children.
Reviews from Amazon:
★★★★★
Like this product it stops my husbands trainers rubbing when he's out running
Bought this for my dad for his corns. He is very happy with it. According to the reviews excellent for other foot uses too,
balls of feet wearing heels etc, so think going to get some for myself to keep in my first aid box!
Learn more about Footcare
Follow the buttons below for articles on how to look after your feet.