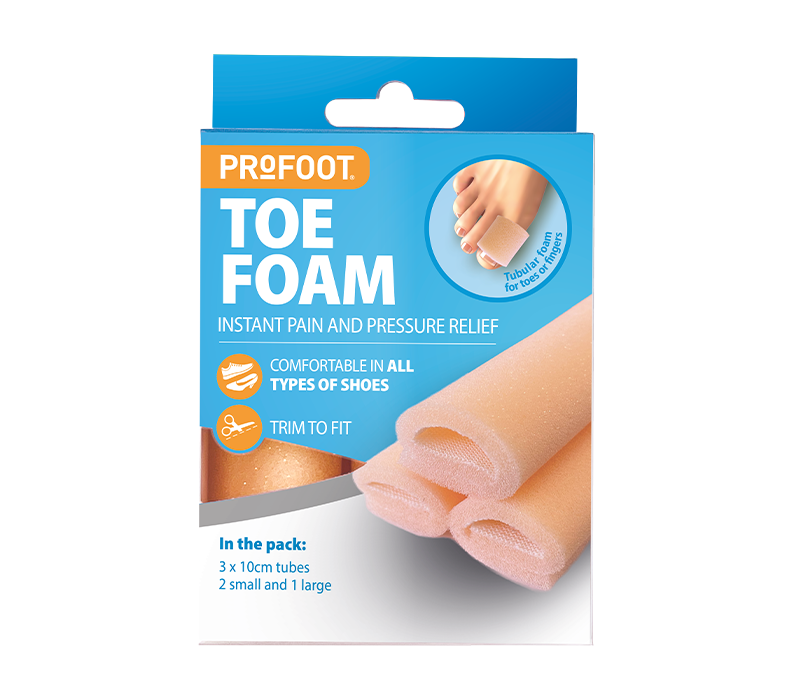 Ideal for Bunions, Corns, Foot Discomfort and Hammer Toe
Profoot Toe Foam offers a solution to painful friction and pressure on fingers and toes, providing comfort throughout the day. It can be used in all types of shoes and is reusable, making it a cost-effective option for those seeking relief from bunions, corns, foot discomfort and hammer toe. Additionally, the Toe Foam can be cut to size for a perfect fit.
The product comes with 3 tubes – 2 small and 1 large – ensuring a comfortable and customized fit for any toe. They can be be worn in a variety of shoes, making it an excellent choice for anyone who wants to stay active while avoiding pain and discomfort.
Key Features
3 tubes – 2 small and 1 large – for a customised fit
Can be cut to size
Comfortable in all types of shoes
Available at the following stores:
Find your local Pharmacy
How to use Toe Foam:
Slide over your toe or finger. If needed remove the Toe Foam and carefully trim with sharp scissors.
Warnings:
If you have diabetes or poor circulation, consult a medical professional before using. If pain, numbness or irritation occurs, discontinue use immediately. Not to be used as a bandage or place on broken skin.
Keep out of reach of children.
Learn more about Footcare
Follow the buttons below for articles on how to look after your feet.