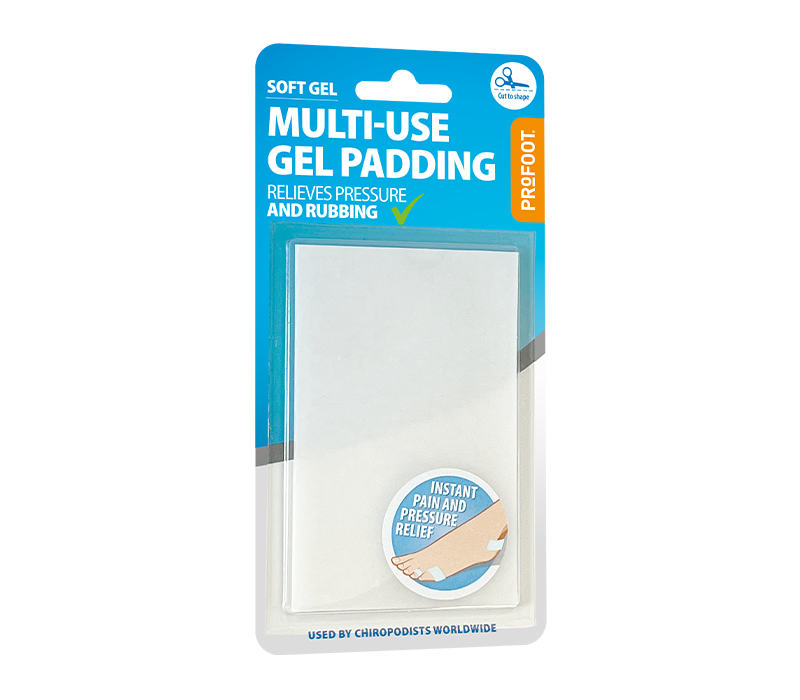 Ideal for Blisters, Bunions, Corns, Calluses and Foot Discomfort
Profoot SoftGel Multi-Use Gel Padding is perfect for anyone experiencing foot discomfort caused by blisters, bunions, corns, calluses or any other issues resulting from pressure and friction. Utilizing advanced polymer gel technology, the SoftGel Padding offers superior cushioning and protection to the affected area.
Thanks to its flexible nature, the Gel Padding adapts to the shape of your body and provides greater reduction of friction than traditional foams and felts. Additionally, it can be applied to the skin or the inside of footwear, offering versatility and convenience.
Our Multi-Use Gel Padding is unique as it contains mineral oil, which can help soften and prevent corns and calluses when applied to the skin setting it apart from traditional foams and felts.
Our Gel Padding is suitable for use anywhere on the body where friction and pressure need to be reduced. Each pack contains one Gel Padding that can be cut to any desired shape. The self-adhesive backing allows for easy application to either foot or shoe.
Profoot SoftGel Multi-Use Gel Padding is a trusted product used by chiropodists around the world, offering cushioning comfort and protection to those who need it.
1 per pack.
Key Features:
Reduces pressure and rubbing
Can be cut to any shape
Self-adhesive backing
Sticks to either foot or shoe
Cushioning comfort
Used by chiropodists worldwide
Available at the following stores:
Find your local Pharmacy
How to use Multi Gel Padding:
Clean and dry your foot. Cut the Gel Padding to the desired shape using sharp scissors. Peel off the backing paper. Apply Padding to either the skin or to the inside of your footwear, make sure to press firmly.
Warnings:
If pain, numbness or irritation occurs, discontinue use immediately. Not to be used as a bandage on broken skin.
Keep out of reach of children.
Care:
We recommend the Gel side is washed with water and mild soap. Air dry only.
Replace the Multi-use Gel Padding when necessary.
Ideas for use:
Blister prevention: 

use where rubbing is likely to result in a blister.

Corns: 

to reduce pain from corns place a piece of Gel Padding over the problem area.

Rubbing shoes:

 fix a piece of padding to the shoe or the skin in the problem area.

Painful corns between toes:

 cut a small piece of padding and stick it to the adjacent toe.

New shoes:

 use to reduce friction when breaking in your new shoes.
Learn more about Footcare
Follow the buttons below for articles on how to look after your feet.