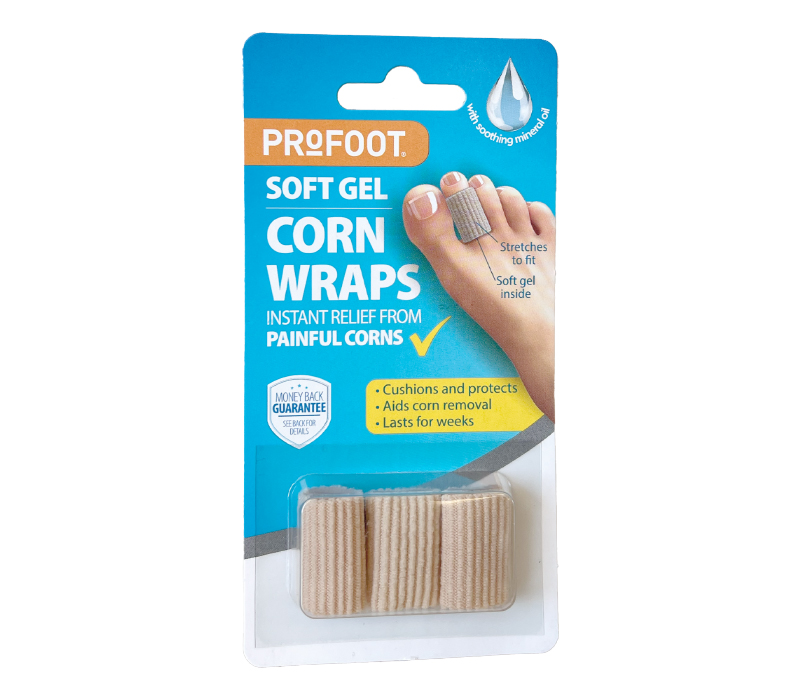 Ideal for Corns
Are you looking for relief from corns? Profoot SoftGel Corn Wraps provide an ideal solution These wraps provide complete wrap-around protection, reducing pressure and friction on the skin. Their medical grade mineral oil formula softens corns and surrounding areas, helping to remove even the toughest corns, and preventing new ones from forming.
Our low-profile design of our Corn Wraps ensures they won't interfere with the fit of your footwear. Each pack contains three washable and reusable wraps, providing superior relief from painful corns for weeks on end.
And that's not all – these wraps can even be used as an overnight finger cuticle softener.
For big toes, try our Corn Wraps XL.
3 Corn Wraps per pack.
Say goodbye to corns, try our Profoot SoftGel Corn Wraps today and feel the difference.
Key Features:
Superior relief from painful corns
Relieves pressure and rubbing
Washable and reusable
They last for weeks
Can be used as an overnight finger cuticle softener too
Available at the following stores:
Find your local Pharmacy
How to use Corn Wraps:
Slide the Profoot Corn Wraps over a toe (or finger). If needed, remove and carefully trim with sharp scissors. To allow skin to breathe do not wear for more than 18 hours continuously.
Stretches to fit.
Warnings:
If you have diabetes or poor circulation, consult a medical professional before using. If pain, numbness or irritation occurs, discontinue use immediately. Not to be used as a bandage or on broken skin.
Keep out of reach of children.
Care:
We recommend carefully washing with water and mild soap. Air dry only. Sprinkle with a small amount of talcum powder on the gel to remove stickiness. Replace the Corn Wrap when the gel has eventually worn thin.
Money Back Guarantee:
The Profoot SoftGel Corn Wraps are eligible for a full refund if returned within 14 days of purchase.
This guarantee does not affect your statutory rights.
Visit our Money Back Guarantee Page to learn more.
Learn more about Footcare
Follow the buttons below for articles on how to look after your feet.