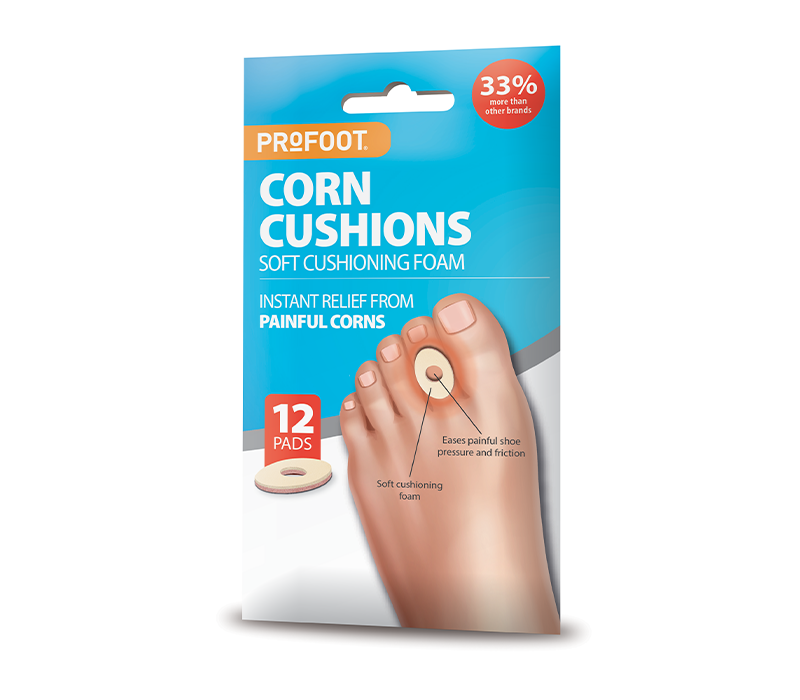 Ideal for Corns
For anyone seeking relief from the discomfort of corns, Profoot Corn Cushions are a must-try.
Crafted with soft cushioning foam, these cushions provide instant relief from the pain and discomfort caused by shoe pressure and rubbing. And thanks to the Mylar top cover, you can wear them comfortably with socks and tights.
What's more, the hypoallergenic adhesive is gentle on sensitive skin, making these cushions a great choice for anyone dealing with irritation or discomfort.
With our 12 cushions pack, you'll get 33% more than other brands, ensuring you always have relief at the ready.
Don't let corns keep you from your favourite activities – try our Profoot Corn Cushions today and experience instant relief.
Key Features:
Instant relief from painful corns
Eases painful shoe pressure and friction
Super soft cushioning foam
Hypo-allergenic adhesive for sensitive skin
Available at the following stores:
Find your local Pharmacy
How to use Corn Cushions:
Before use please ensure that feet are both clean and dry. Gently remove Corn Cushion from backing. Place the self adhesive pad centrally over the corn or tender area and press down to ensure the best adhesion.
Warnings:
If irritation or discomfort occurs, discontinue use immediately and consult a medical professional.
Keep out of reach of children.
Learn more about Footcare
Follow the buttons below for articles on how to look after your feet.