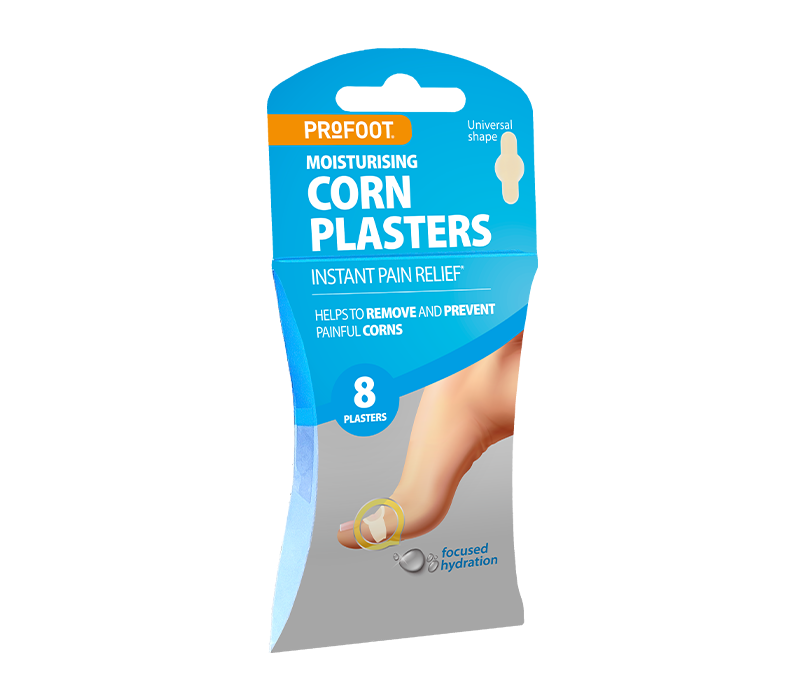 Experience Immediate Comfort from Painful Corns
Suffering from corns can be a frustrating and painful experience, but relief is at hand with Profoot Moisturising Corn Plasters. These specially designed plasters are crafted to provide instant comfort from the discomfort caused by corns. When you use our corn plasters, you'll feel immediate pain relief, thanks to their innovative hydrocolloid technology.
Hydrocolloid Technology: Advanced Moisturising and Softening
Our plasters utilise advanced hydrocolloid technology, which is a game-changer in skin care. This technology aids in moisturising and softening the hardened skin that forms around corns, making it easier for you to remove them gently. Not only do these plasters help in treating existing corns, but they also play a pivotal role in preventing the formation of new ones.
Designed for Maximum Comfort and Efficiency
Understanding the need for a comfortable fit, our corn plasters have been meticulously designed with a universal shape. This ensures that they fit perfectly on any part of your toes or feet, providing maximum relief. Whether you're at home, at work, or engaging in sports, these plasters are made to stay firmly in place. Their waterproof design adds to their efficiency, ensuring they remain effective even when wet.
A Convenient and Effective Pack
Each pack of Profoot Moisturising Corn Plasters comes with 8 individual plasters, making it a convenient and cost-effective solution for corn treatment. The pack size is ideal for regular use and easy to carry, ensuring you have access to pain relief whenever you need it.
Key Features at a Glance:
Instant Relief: Say goodbye to the pain of corns instantly.
Universal Shape: Designed to fit comfortably on any toe or foot area.
Dual Action: Not only treats existing corns but helps in preventing new ones.
Focused Hydration: Hydrocolloid technology ensures targeted moisturizing.
Sturdy and Reliable: Stays in place all day, perfect for active lifestyles.
Waterproof: Efficiency that's not compromised by moisture.
Experience the comfort and relief you deserve with Profoot Moisturising Corn Plasters. Say goodbye to the discomfort of corns and hello to happier, healthier feet.
Available at the following stores:
Find your local Pharmacy
How to use Moisturising Corn Plasters:
Clean the affected area and dry thoroughly. Make sure the affected area is free of creams and oils. Remove the paper side and apply plaster over the affected area without touching the adhesive side. Leave the plaster in place until it loosens naturally. Maximum wear time up to 7 days.
Warnings:
Do not use on infected wounds.
If you have diabetes or poor circulation, consult a doctor or chiropodist before using. If the surrounding skin becomes red and swollen, consult your doctor or pharmacist.
Maximum wear time up to 7 days.
Keep out of reach of children.
Learn more about Footcare
Follow the buttons below for articles on how to look after your feet.