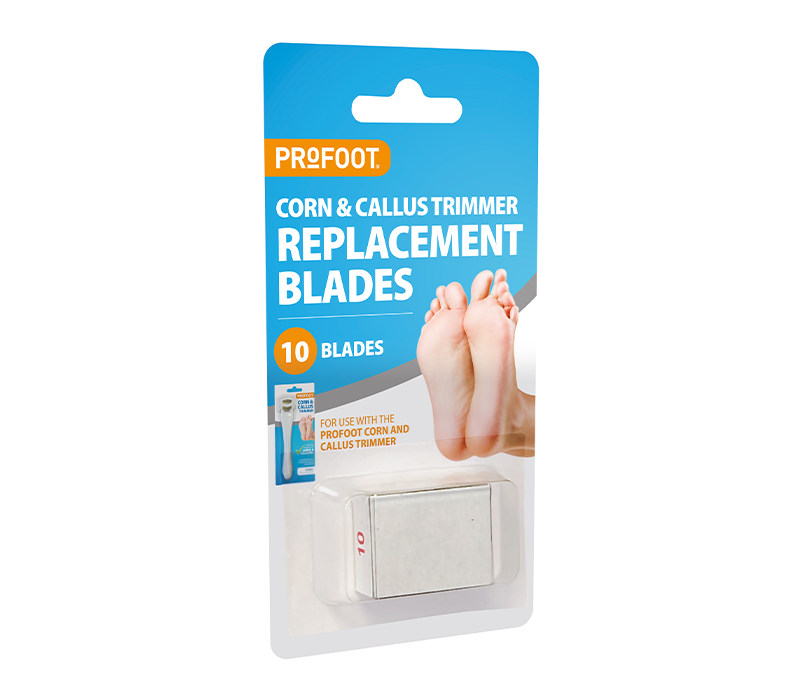 Profoot Callus Trimmer Replacement Blades: Precision and Safety for Foot Care
Essential Maintenance for Your Foot Care Regiment
Ensure your Profoot Corn and Callus Trimmer remains at peak performance with our pack of 10 precision-crafted replacement blades. Specially designed for seamless integration with the Profoot trimmer, these blades offer the exactness needed for effective callus removal.
Designed for Safety and Efficacy
Sharp and Precise: Each blade is meticulously engineered to provide a precise cut, ensuring effective removal of hard skin and calluses with minimal effort.
Compatibility: These replacement blades are exclusively designed for the Profoot Corn and Callus Trimmer, ensuring perfect fit and functionality.
Easy Blade Replacement: Changing the blade is straightforward but requires caution due to the sharpness of the blades.
Available at the following stores:
Find your local Pharmacy
Changing Blade:
Use caution when changing the blade as they are very sharp!
The trimmer consists of a handle, slider and blade
To take the trimmer apart, place on a hard surface, grip the handle with one hand and using the other place a finger on either side of the slider and slide it down to the "CHANGE" position.
Carefully lift the slider, remove the blade and either rotate or replace the blade with a new one. Place the slider back in the "CHANGE" position and slide up to the "CLOSED" position.
Warning:
If you have diabetes, poor circulation, poor eyesight, or poor hand-eye coordination, consult your doctor or chiropodist before use. If symptoms persist, visit a foot specialist. Keep out of reach of children. Do not use on verrucas and warts.
Learn more about Footcare
Follow the buttons below for articles on how to look after your feet.