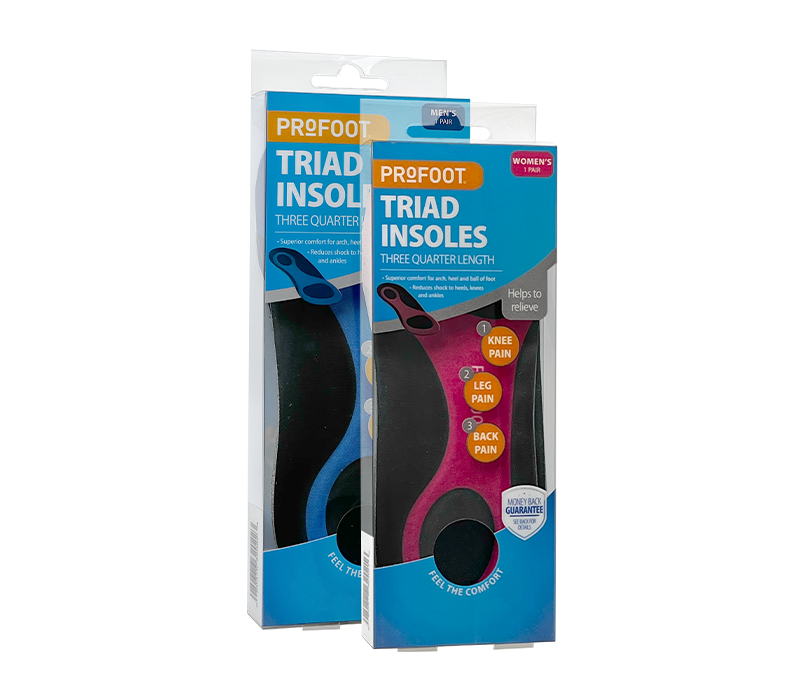 Ideal for Pronation, Foot, Knee, Back and Heel Pain and Plantar Fasciitis
Introducing our Three-quarter Length Insoles – the perfect solution for Pronation, Foot, Knee, Back, Heel Pain and Plantar Fasciitis.
The advanced design of Triad Insoles provides superior support and comfort to three zones of your feet: the arches, heels, and balls of your feet. You will notice the difference as soon as you place them in your shoes.
Triad Insoles help prevent foot fatigue and relieve knee and back pain, with their triple action design. The insoles are also very lightweight and offer exceptional cushioning and shock absorption, which means less stress on your feet and joints.
Our Triad Insoles come in one pair per pack and are available in both Men's and Women's sizes.
Key Features:
All-day comfort
Relief for knee, leg and back pain
Reduction of foot fatigue
Alleviation of burning sensation under ball of foot
Available in Men's and Women's size
Try our Triads today!
Available at the following stores:
Find your local Pharmacy
How to use Three Quarter Length Insoles:
Place the Triad insole into the shoe. The insole with the Triad logo fits into your right shoe. If the insole slides, peel off the covering from adhesive strips on the bottom of the support and press firmly into the shoe.
Important:
Please be aware the break-in period for the Triad Insoles is usually 24-48 hours. Be sure to always wear Triad insoles in both shoes.
Money Back Guarantee:
The Profoot Triad Insoles is eligible for a full refund if returned within 30 days of purchase.
This guarantee does not affect your statutory rights.
Visit our Money Back Guarantee Page to learn more.
Learn more about Footcare
Follow the buttons below for articles on how to look after your feet.