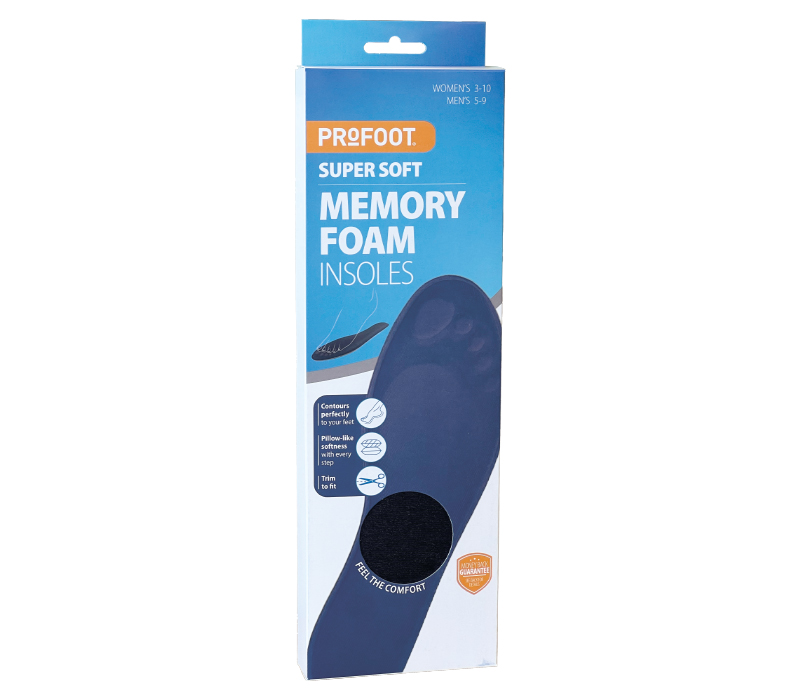 Soft and Comfortable Memory Foam Insoles
Experience ultimate comfort with Profoot Memory Foam Insoles that conform perfectly to the unique shape of your feet. The luxurious foam remoulds with every step to provide a cushioned and comfortable fit, making it ideal for everyday use.
The textured sole of the insoles prevents slipping and keeps them firmly in place in your shoes. These unisex insoles come with a cutting guide and easy-to-follow instructions.
Available in two sizes: Women's size 3-10 Men's size 5-9
Each pack contains one pair of insoles, which can be trimmed to fit your shoes perfectly.
Key Features:
Pillow-like softness with every step
Contours to your feet for a personalised fit
Features a non-slip textured backing to prevent slipping
Ideal for everyday shoes and boots
May be used in place of existing insoles
Trim to fit
Made in China
Available at the following stores:
Find your local Pharmacy
Directions:
First place the insole into shoe.
Test for fit.
If needed, trim with sharp scissors using the enclosed template as a cutting guide.
We recommend initially cutting the template one size too large.
If the insole is too large, trim as necessary.
Flip the template and repeat the process for the other insole.
Money Back Guarantee:
The Profoot Memory Foam Insoles are eligible for a full refund if returned within 14 days of purchase.
This guarantee does not affect your statutory rights.
Visit our Money Back Guarantee Page to learn more.
Care and Safety Advice:
To clean, wipe with a damp cloth and air dry.
Discontinue use if you experience an adverse reaction. People with diabetes or circulatory disorders should seek professional advice before using any foot care product.
Materials:
Polyurethane foam, silicone, spandex.
Learn more about Footcare
Follow the buttons below for articles on how to look after your feet.