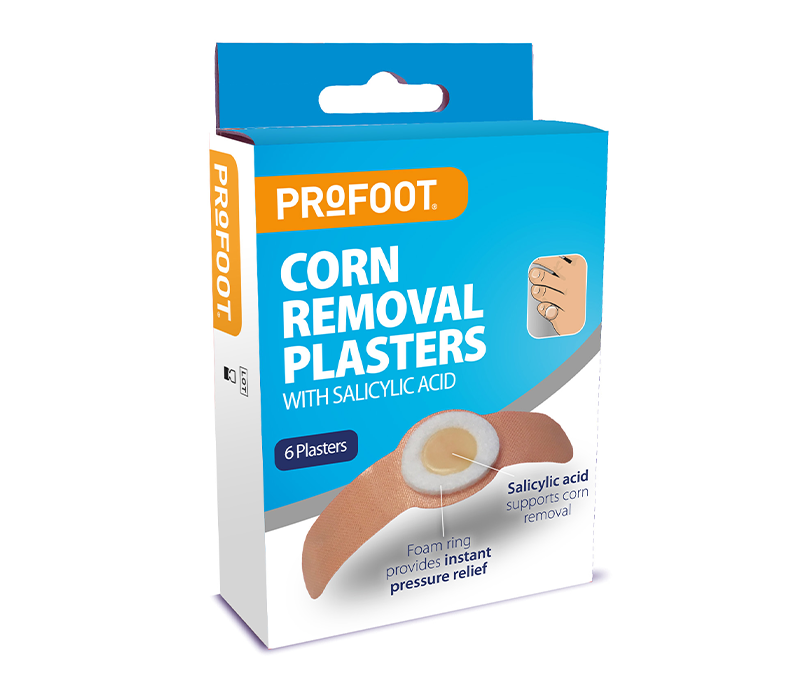 Ideal for Corns
Our Profoot Corn Removal Plasters are an effective treatment for corns and calluses. They are individually wrapped adhesive plasters containing salicylic acid. The salicylic acid acts on the callus, and the protective disc prevents painful friction, providing excellent comfort.
Each pack contains 6 Corn Removal Plasters that are easy to use and provide quick relief. The plaster adhesive holds the pad in position, ensuring maximum contact with the affected area. The foam ring provides excellent comfort, making it ideal for everyday use.
Contains 6 Corn Removal Plasters.
Key Features:
The plaster adhesive holds pad in position
Salicylic Acid aids corn removal
Foam ring provides excellent comfort
Available at the following stores:
Find your local Pharmacy
How to use Corn Removal Plasters:
Bathe your feet in warm water and dry them. Best applied at bedtime. Position the centre of the plaster over the corn, avoiding the surrounding healthy skin. apply the plaster.
Continue using the plasters until the corn is easily removed.
Warnings:
If you have diabetes or poor circulation, consult a medical professional before using. If pain, numbness or irritation occurs, discontinue use immediately. Do not use as a bandage on broken skin.
Keep out of reach of children. Do not use in cases of allergy to salicylates or any other ingredient. Do not use on infected corns. The Corn Removal Plaster is caustic so do not apply outside of the area to be treated.
Please stop use immediately if you start to experience pain. If you have arthritis, diabetes, neuropathy or poor circulation, consult a Doctor or Chiropodist before using. If a correctly applied treatment is not successful or the problem recurs seek medical advice, as it may be necessary to establish the cause and treat accordingly.
Like any active substance this product may, in some cases, induce adverse effects of varying severity, especially skin irritation or allergy if applied on healthy skin. If in any doubt ask your pharmacist or doctor for advice.
Storage:
Store at a temperature below 30°C.
Contains:
Salicylic acid: 32mg
Excipients: white beeswax, saturated polyglycolysed glycerides, hydrophobic collioidal silica, copper chlorophyll.
Learn more about Footcare
Follow the buttons below for articles on how to look after your feet.