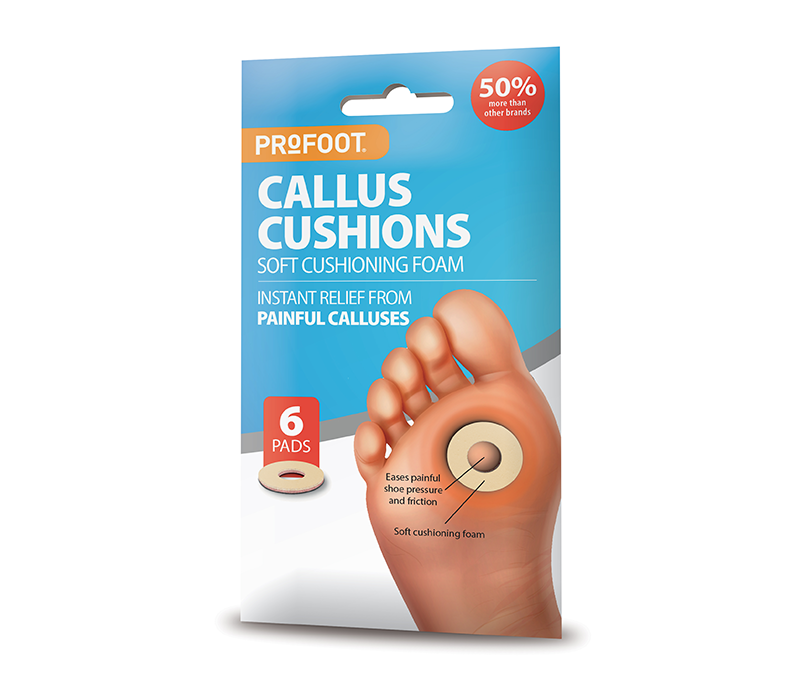 Quickly Relieve Painful Calluses
If you're experiencing discomfort from calluses on the ball of your foot, Profoot Callus Cushions can provide instant relief. Our super soft cushioning foam absorbs friction and re-distributes pressure, helping to reduce and prevent the formation of calluses while also easing pain caused by existing hard skin.
While designed for the sole of the foot, our Callus Cushions can be used anywhere on the foot to provide relief from callus-related discomfort. Our cushions use hypoallergenic adhesive, so it is gentle on sensitive skin, making it safe for anyone to use.
Each pack of Profoot Callus Cushions contains six pads, which is 50% more than other brands offer. Providing you with greater value and longer-lasting relief from calluses.
Key Features:
Instant relief from painful calluses
Eases painful underfoot pressure and friction
Super soft cushioning foam
Hypo-allergenic adhesive for sensitive skin
6 pads per pack, 50% more than other brands
Available at the following stores:
Find your local Pharmacy
How to use Callus Cushions:
Before use please ensure that feet are both clean and dry. Remove Callus Cushion from the backing. Place the cushion centrally over the callus, with the adhesive to the skin. Press down to ensure complete adhesion.
Warnings:
If irritation or discomfort occurs, discontinue use immediately and consult a medical professional.
Keep out of reach of children.
Learn more about Footcare
Follow the buttons below for articles on how to look after your feet.