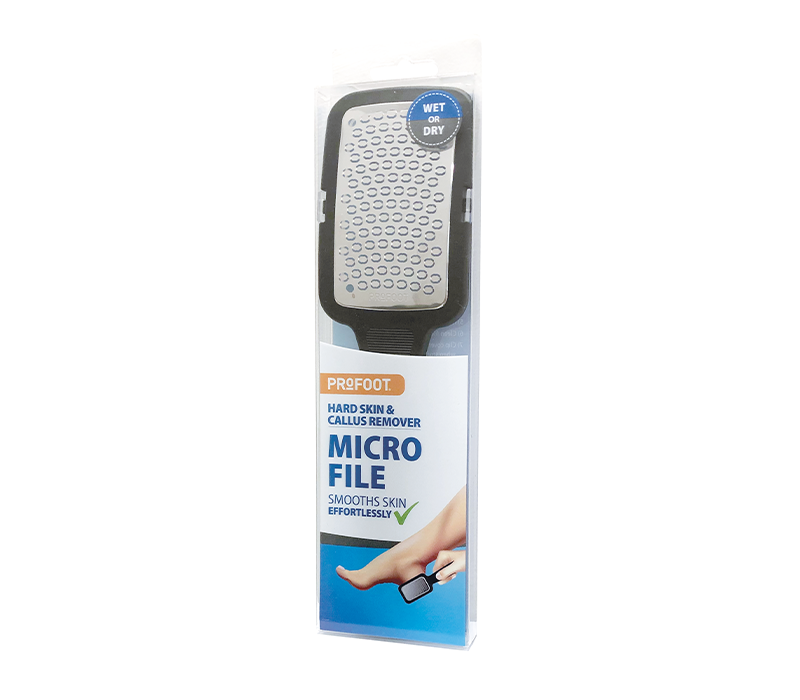 Hard Skin & Callus Remover
Introducing our Profoot Micro File, the ultimate hard skin and callus remover. Featuring a stainless steel microblade, this tool makes easy work of removing tough skin and calluses from both wet and dry skin. The wide head and comfortable handle ensure that you can use the Micro File with maximum comfort and control.
To make life even easier, this amazing tool comes with a dual-purpose cover. Not only does it protect the blade when not in use, but it also collects all the hard skin you remove.
Accept nothing less than the best! Choose the Profoot Micro File for smooth and beautiful feet.
Key Features
Smooths skin effortlessly
Removes Hard skin
Removes calluses
innovative Dual purpose cover
Use wet or dry
Available at the following stores:
Find your local Pharmacy
How to use the Micro File:
Ensure feet are clean
Clip cover on back of the file
Move the Profoot Micro File back and forth over hard skin whilst gently applying pressure
Stop use once hard skin is removed or new skin is seen
Remove cover and dispose of dead skin
Clean file with warm water after use
Clip cover back on the blade side when storing
Warnings:
Keep out of reach of children.
Do not use on irritated, inflamed or infected skin or on open wounds.
If you have diabetes or have poor blood circulation, seek medical advice or chiropodist before using.
Learn more about Footcare
Follow the buttons below for articles on how to look after your feet.