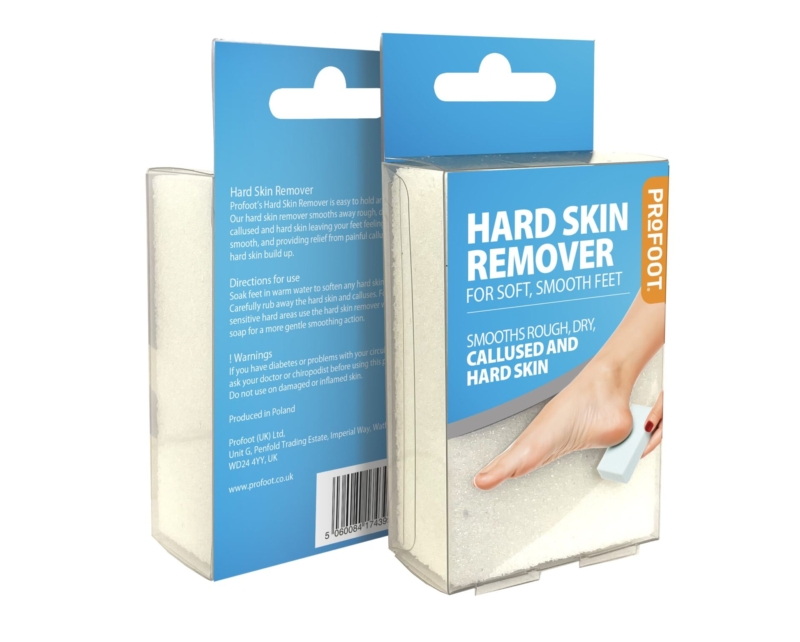 Profoot Hard Skin Remover: The Path to Soft, Smooth Feet
Transform Your Foot Care Regiment
Step into a world of comfort with Profoot's Hard Skin Remover, your go-to solution for effortlessly achieving soft and smooth feet. Our expertly crafted foot file is specifically designed to gently yet effectively remove hard and dry skin, providing relief from the discomfort associated with calluses and skin buildup.
Key Features for Optimal Foot Health
Efficient Skin Smoothing: Effectively smooths out rough, dry, callused, and hard skin, ensuring your feet feel rejuvenated.
Long-Lasting Durability: Built to last, ensuring you get prolonged value and effectiveness from each use.
User-Friendly Design: Boasts an easy-to-hold grip, making it comfortable and simple to use for anyone seeking to enhance the appearance and feel of their feet.
Available at the following stores:
Find your local Pharmacy
How to Use Hard Skin Remover:
Ensure feet are clean. To soften hard skin, soak feet in warm water. Rub foot with remover, gently removing dry, rough and callused skin. For gentler smoothing action, use the hard skin remover with mild soap.
Warning:
If you have diabetes or poor circulation, consult a medical professional before using. If pain, numbness or irritation occurs, discontinue use immediately. Not to be used on damaged or inflamed skin.
Keep out of reach of children.
Complement with Related Foot Care Products
Pair the Hard Skin Remover with our range of foot care solutions like Moisturising Foot Socks, Toenail Nipper, Profoot Massage Ball, and Micro File for a comprehensive foot care experience.
Learn More and Find Us
Discover more about foot care by exploring our articles on common foot problems and foot care tips. Locate our products conveniently using the Profoot Pharmacy Finder, supporting local businesses.
Learn more about Footcare
Follow the buttons below for articles on how to look after your feet.