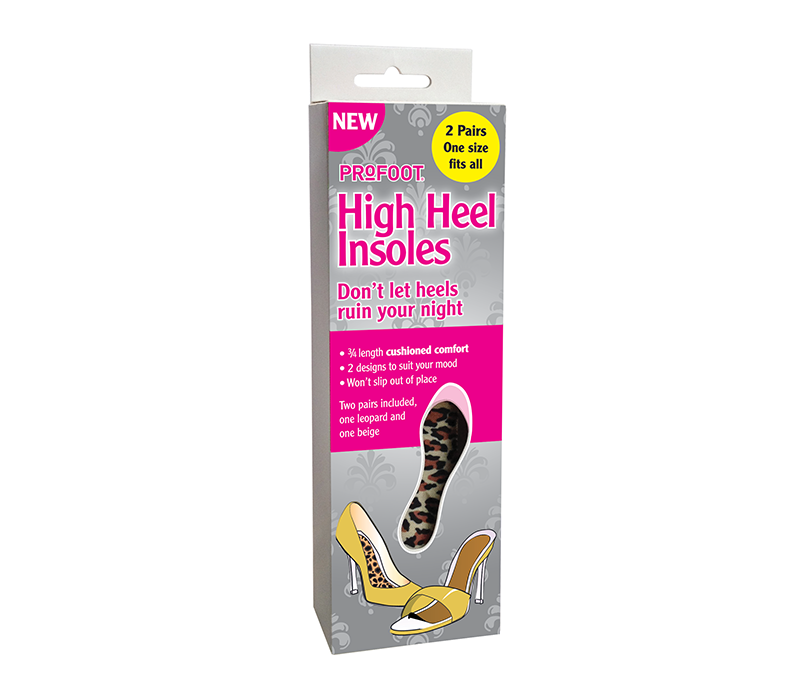 Introducing the Ultimate Solution for Foot Discomfort and Metatarsalgia
Are you tired of suffering from foot discomfort or metatarsalgia when you wear your favourite high heels? Look no further than Profoot High Heel Insoles, the perfect remedy for your aching feet. These innovative 3/4 length cushioned insoles come in two distinct designs, one tailored for daytime wear and the other for night time glamour, ensuring that you can enjoy comfort without compromising your style.
No matter what type of footwear you prefer, whether it's elegant sandals or chic boots, Profoot High Heel Insoles are designed to provide unparalleled comfort. Crafted from super-soft foam, these insoles offer exceptional cushioning and shock absorption, making each step feel like you're walking on clouds.
What sets Profoot High Heel Insoles apart is their sleek and discreet design, making them virtually invisible when placed inside your shoes. You don't have to worry about them affecting the appearance of your favorite footwear. Plus, their built-in adhesive strip ensures that they stay securely in place throughout the day or night, so you can confidently go about your activities.
Each package of Profoot High Heel Insoles includes two pairs of insoles, one in a trendy leopard print and the other in a classic beige, allowing you to change up your look as often as you like while experiencing the same level of comfort.
Key Features:
Super Soft Foam: Offers unmatched cushioning and superior shock absorption for ultimate comfort.
Sleek Design: The slim profile ensures that the insoles remain virtually invisible underfoot.
Two Style Options: Choose between the chic leopard print and the timeless beige to match your mood and outfit.
Adhesive Strip: Keeps the insoles securely in place, so you can step with confidence.
Don't endure the agony of uncomfortable heels any longer. Embrace the future of foot comfort with Profoot High Heel Insoles. Try them today and give your feet the pampering they deserve. Say goodbye to foot discomfort and metatarsalgia, and hello to stylish and pain-free steps.
Available at the following stores:
Find your local Pharmacy
How to use High Heel Insoles:
Wipe the inside of the shoe clean, peel the plastic off the adhesive strip on the bottom of the High Heel Insole. place the insole inside the shoe, lining the heel of the insole up with the heel of the shoe.
Money Back Guarantee:
The Profoot High Heel Insoles are eligible for a full refund if returned within 30 days of purchase.
This guarantee does not affect your statutory rights.
Visit our Money Back Guarantee Page to learn more.
Care:
We recommend that you replace these insoles every six months.
Learn more about Footcare
Follow the buttons below for articles on how to look after your feet.