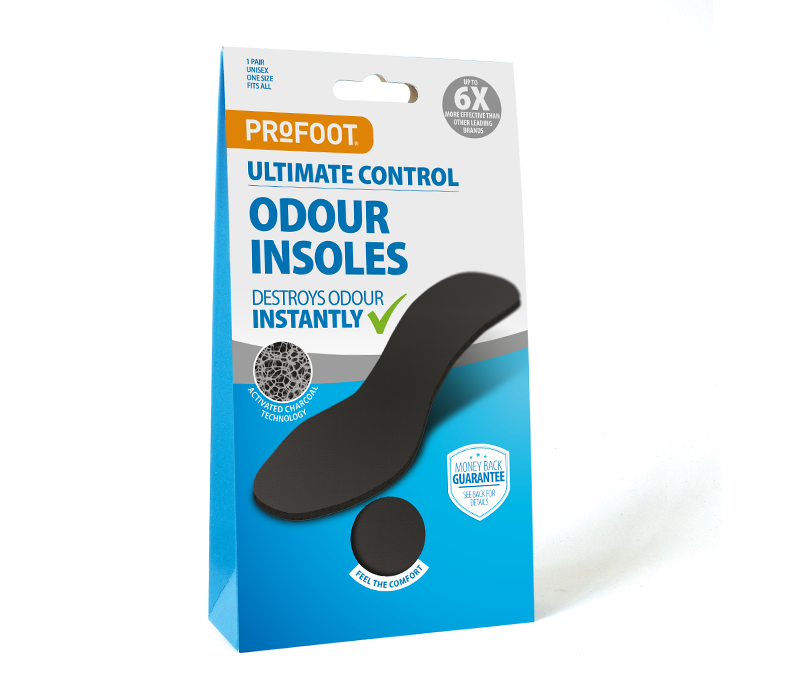 Say Goodbye to Shoe Odour with Profoot Odour Insoles
Profoot Odour Insoles are the perfect solution for anyone dealing with stubborn shoe odour. These insoles are scientifically proven to be up to 6 times more effective at fighting odour than other leading brands, thanks to their active charcoal layer that instantly destroys odour.
Our insoles also have an ultra-fresh antimicrobial layer that works to stop the development of bacteria that produce bad odours, providing a longer-lasting defence against them. You can say bye to unpleasant shoe odour and hello to added comfort with our Profoot Odour Insoles.
These insoles are washable and made in Britain, making them a convenient and reliable choice for everyday use.
Key Features:
Active charcoal layer destroys odour
Ultra-fresh antimicrobial layer prevents odour-causing bacteria
Absorbs perspiration for all-day freshness
Superb cushioning for extra comfort
Won't bunch or wrinkle in shoe
Money Back Guarantee
Washable for long-lasting use
Available at the following stores:
Find your local Pharmacy
How to use Odour Insoles:
We suggest cutting one size larger than your shoe size initially, and then trimming down to the correct size. Using guidelines, trim to size with sharp scissors. Place in footwear printed side down. The lines are meant and as a guide only.
Money back guarantee:
If you are not satisfied for any reason, please return our Profoot Ultimate Control Odour Insoles
with your receipt, within 14 days of purchase for a full refund.
This guarantee does not affect your statutory rights.
Visit our Money Back Guarantee Page to learn more.
Care:
Machine washable at low temperatures and do not tumble dry.
Dry flat and do not leave on the radiator.
Information:
Each and everyone of us has three to four million sweat glands, and even if your lying about you lose about half a litre of sweat daily. Whilst sweat is not smelly in itself, bacteria quickly work on it to produce fatty acids and it's this that produces the pungent stale sweat smell giving you smelly feet and horrible trainers.
Learn more about smelly feet and foot odour
Learn more about Footcare
Follow the buttons below for articles on how to look after your feet.