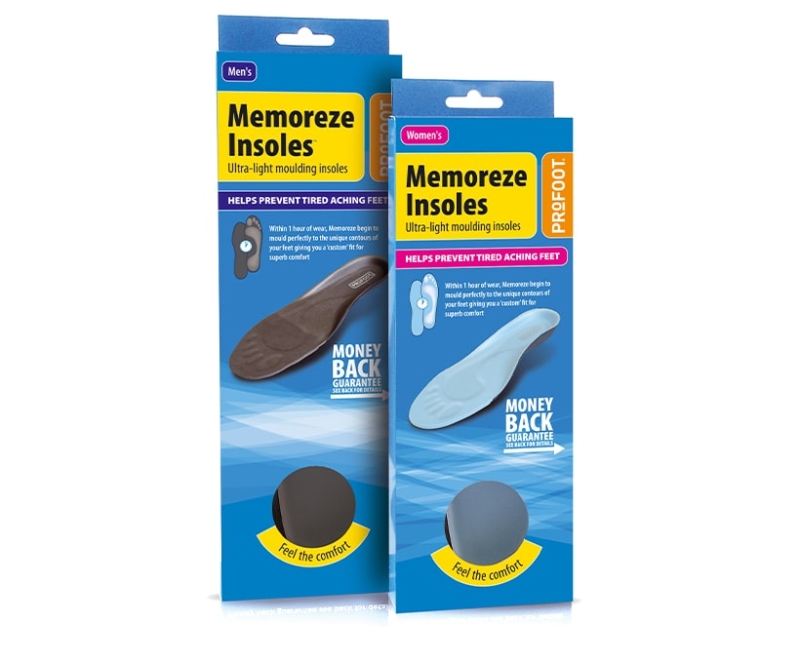 Ideal for Foot Discomfort
If you suffer from foot discomfort, our Profoot Memoreze Insoles are the perfect solution. These ultra-light moulding insoles will begin to perfectly mould to your feet within an hour, thanks to their unique 2-layer orthotic design.
The bottom layer provides firm support and shock absorption, stabilizing your heel and supporting your arch while cushioning the impact of walking or running. The top layer is made of advanced memory foam, which learns the shape of your foot as you walk to provide customized support.
Unlike other heavier inserts, our Memoreze insoles are ultra-lightweight, preventing foot fatigue and providing ultimate comfort and protection. They can be trimmed to fit and are available in both women's and men's sizes.
Key Features:
Helps prevent tired aching feet
Ultra-lightweight and cushioned for comfort and protection
Can be trimmed to fit
Reduce foot fatigue
Reduce shock to the feet and joints
Try them today and feel the difference!
Available at the following stores:
Find your local Pharmacy
How to use Memoreze Insoles:
Put your Memoreze Insoles into your shoe to test the fit. If needed, trim with sharp scissors following the guide on the underside of the insoles. May be used in place of existing insoles.
Warnings:
If pain, numbness or irritation occurs, discontinue use immediately.
Keep out of reach of children.
Learn more about Footcare
Follow the buttons below for articles on how to look after your feet.