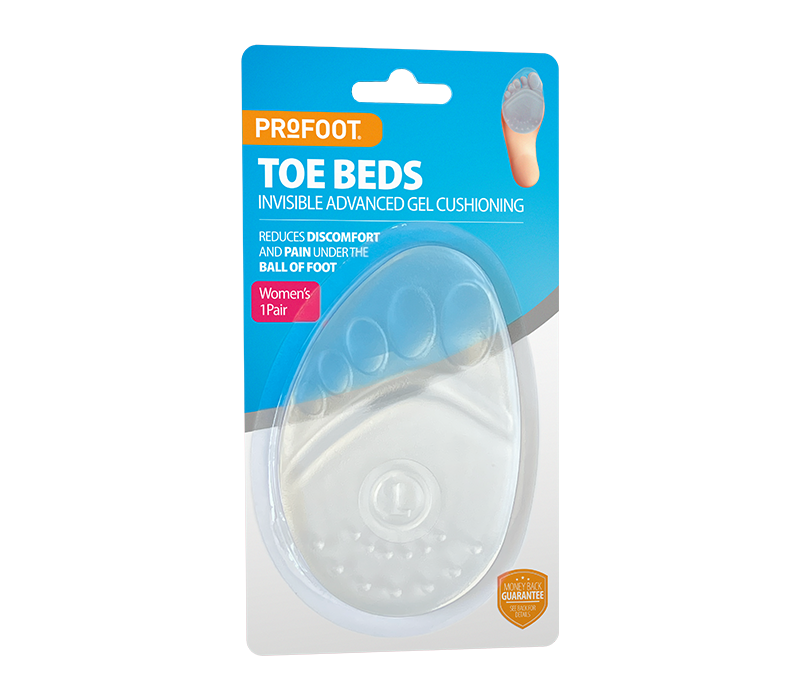 Ideal for Metatarsalgia and Morton's Neuroma
Our Profoot Women's Toe Beds offer unparalleled comfort all day long with their revolutionary toe and ball of foot (metatarsal) cushioning. The uniquely designed toe impressions gently align toes, promoting proper toe placement and helping to prevent painful corns. The impact cushioning ball of foot pad helps prevent fatigue and callus formation, as well as the uncomfortable feeling of walking on stones. The Toe Beds give you advanced gel cushioning that is invisible to the eye, reducing discomfort and pain under the ball of the foot.
The Toe Beds have a new and improved design and are ideal for all types of shoes. They cradle toes and cushion the ball of the foot, preventing the foot from sliding. They relieve the burning sensation under the ball of the foot, reduce hard skin build up, and relieve metatarsalgia pain.
Each pack includes one pair of Toe Beds.
Key Features:
New improved design
Relieve burning sensation under ball of foot
Reduce hard skin build-up
Relieve metatarsalgia pain
Provides all day relief
Cradles toes and cushions ball of foot
Prevents foot from sliding
Ideal for all types of shoes
Available at the following stores:
Find your local Pharmacy
How to use Toe Beds
Test placement of the Toe Bed. Trim to fit if necessary with sharp scissor, being careful not to cut too small. Peel off the backing and press firmly in the desired location.
Money Back Guarantee
The Profoot Toe Bed is eligible for a full refund if returned within 30 days of purchase.
Learn more about Footcare
Follow the buttons below for articles on how to look after your feet.