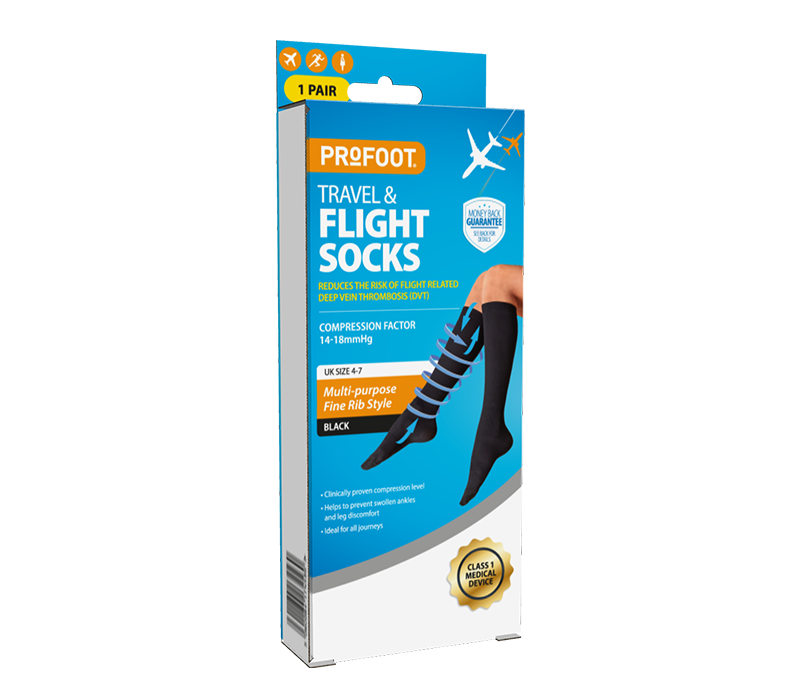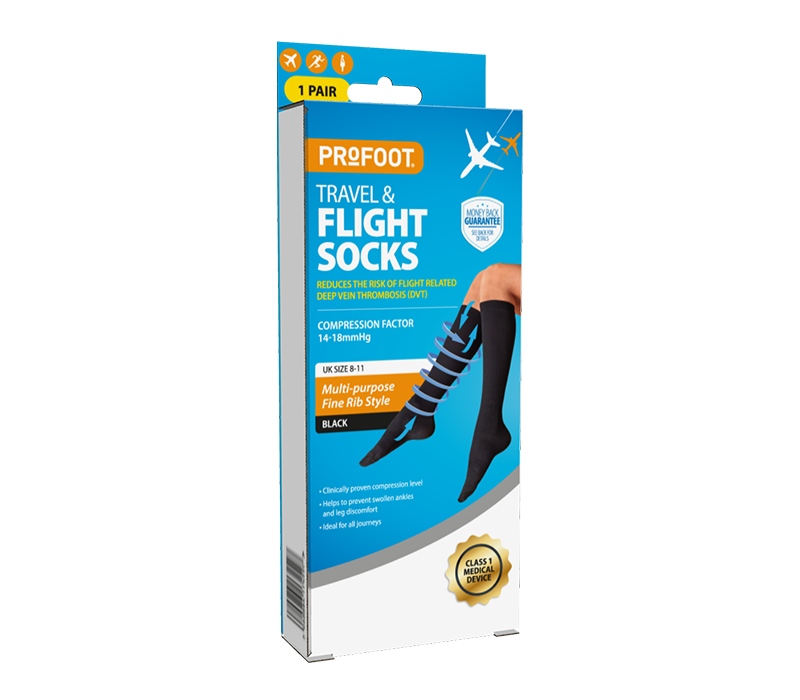 Reduce the Risk of Flight-Related Deep Vein Thrombosis (DVT) with Our Travel & Flight Socks
Experience the ultimate in travel comfort and safety with our specially designed Flight Socks. Incorporating the strength and flexibility of LYCRA fibre, these socks offer an enhanced fit and unmatched comfort, making them essential for your travel needs.
Our multi-functional compression socks are expertly crafted to provide graduated support, crucial for reducing the discomfort associated with tired, achy legs. This feature makes them an ideal choice not only for air travel but also for sports activities, maternity needs, and extended periods of sitting or standing.
Engineered to meet the rigorous standards of the British Standard BS7672, these socks ensure regular blood circulation, significantly reducing the risk of deep vein thrombosis (DVT), a common concern during long flights.
Available in two sizes – UK Size 4-7 and UK Size 8-11 – our Flight Socks cater to a wide range of users. They boast a sleek black, multi-purpose fine rib design with a compression factor of 14-18 mmHg, blending style with functionality.
Profoot Flight Socks are machine washable, ensuring hygiene and convenience. Proudly made in the UK, these socks reflect quality and reliability.
Each pack contains one pair of our black Flight Socks, making it easy to stay prepared for your next journey. Additionally, they are certified as a Class 1 medical device, assuring you of their effectiveness and safety.
Key Features:
Clinically proven compression level for maximum efficacy
Helps prevent swollen ankles and reduces leg discomfort during travel
Versatile and suitable for various activities, including long journeys, sports, and maternity wear.
Available at the following stores:
Find your local Pharmacy
How to use Flight Socks
Carefully position sock over the foot, ensuring the heel is positioned so it fits into the heel pouch.
Gently pull the sock up around the ankle and calf, ensuring the sock is wrinkle free.
Caution, fingernails may damage the fabric.
Information:
Do not wear the socks rolled down and do not turn down the top band of the sock. If while wearing the socks you feel any discomfort, please remove the sock and seek medical advice.
Seek medical device before use if any of the following apply: Previously suffered from blood clots, recently undergone major surgery, known or suspected DVT, cellulitis, arterial disease, circulatory problems or diabetes.
LYCRA is a trademark of INVISTA.
Care:
Hand wash and dry separately.
Learn more about Footcare
Follow the buttons below for articles on how to look after your feet.