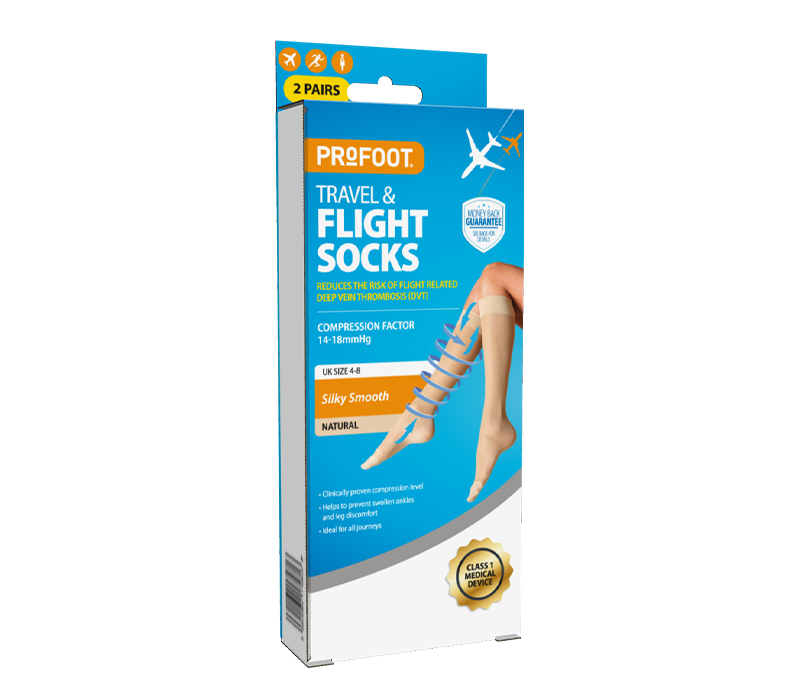 Reduce the risk of Flight Related Deep Vein Thrombosis (DVT) with our Flight Socks
Crafted with LYCRA fiber, our silky smooth multi-purpose compression socks offer improved comfort and fit.
These graduated support socks are designed to alleviate the discomfort of tired and aching legs, and can help prevent swollen ankles, making them suitable for travel, sports, maternity, and extended periods of inactivity.
The graduated compression values of these socks meet the British Standard BS7672, promoting consistent blood flow and lowering the risk of deep vein thrombosis (DVT).
These socks are available in UK Size 4-8 and feature a multi-purpose silky smooth design with a compression factor of 14-18.
Profoot Silky Smooth Flight Socks are machine washable and made in the UK.
Each pack includes two pairs of natural socks.
Certified as a Class 1 medical device.
Buy before you fly!
Key Features:
Clinically proven compression level
Helps prevent swollen ankles and leg discomfort
Ideal for all journeys
Available at the following stores:
Find your local Pharmacy
How to use our Silky Smooth Flight Socks:
Carefully position sock over the foot, ensuring the heel is positioned so it fits into the heel pouch.
Gently pull the sock up around the ankle and calf, ensuring the sock is wrinkle free.
Caution, fingernails may damage the fabric.
Information:
Do not wear the socks rolled down and do not turn down the top band of the sock. If while wearing the socks you feel any discomfort, please remove the sock and seek medical advice.
Seek medical device before use if any of the following apply: Previously suffered from blood clots, recently undergone major surgery, known or suspected DVT, cellulitis, arterial disease, circulatory problems or diabetes.
LYCRA is a trademark of INVISTA.
Care:
Hand wash and dry separately.
Learn more about Footcare
Follow the buttons below for articles on how to look after your feet.