Dry skin is a common condition and in most cases can be managed with foot cream and a good foot care regime. In severe cases, where the dry skin may have caused cracked skin, a soft density gel protector pad will protect and help to reduce stress on tender areas. For cracked heels we would recommend our Gel Max heel cushions as they provide all day comfort for your feet, no matter what level of activity they are put through. They also contain a ribbed section which is designed to gently massage your heel as you walk. Or you could try our Intensive Repair Cracked Heel Cream.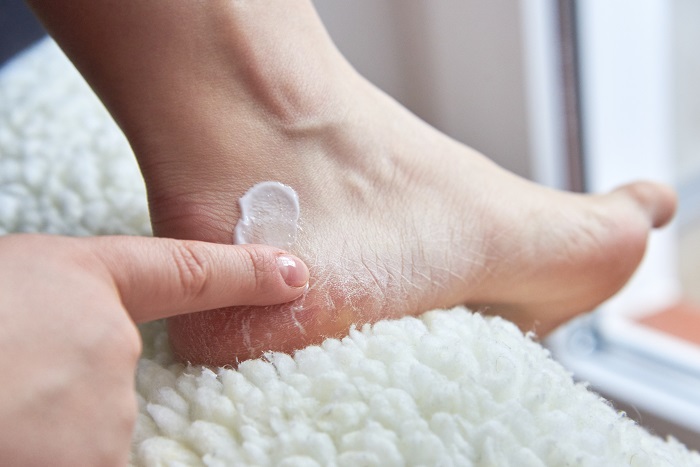 What else can I do?
Treat your feet to a DIY pedicure:
Remove any nail polish
Fill a bowl with warm water and add a little Jasmine essential oil, this will help gently moisturise your feet while you soak them.
After five minutes, dry your feet and apply a thick foot moisturiser. If possible, do this at night and wear cotton socks whilst sleeping, this way the feet will stay moisturised for longer.
Brush some clear varnish on your toenails and your feet will be transformed!
If your dry skin continues to be a problem why not try using our Soft Gel range? The range can help protect and soothe problem areas. Softgel uses an advanced polymer gel, which contains medical grade mineral oil helping to help keep the skin soft and supple whilst reducing the build up of, hard skin, calluses and corns. This unique collection contains:
Corn Wraps, designed to give full wrap-around protection, by reducing pressure and friction on the skin whilst softening the hard skin.
Toe Spreader, relieves bunion and toe pain by separating and properly aligning big and second toes.
Toe Protector, surround, cushion and protect sore toes.
Some Profoot products to help with Dry Skin: