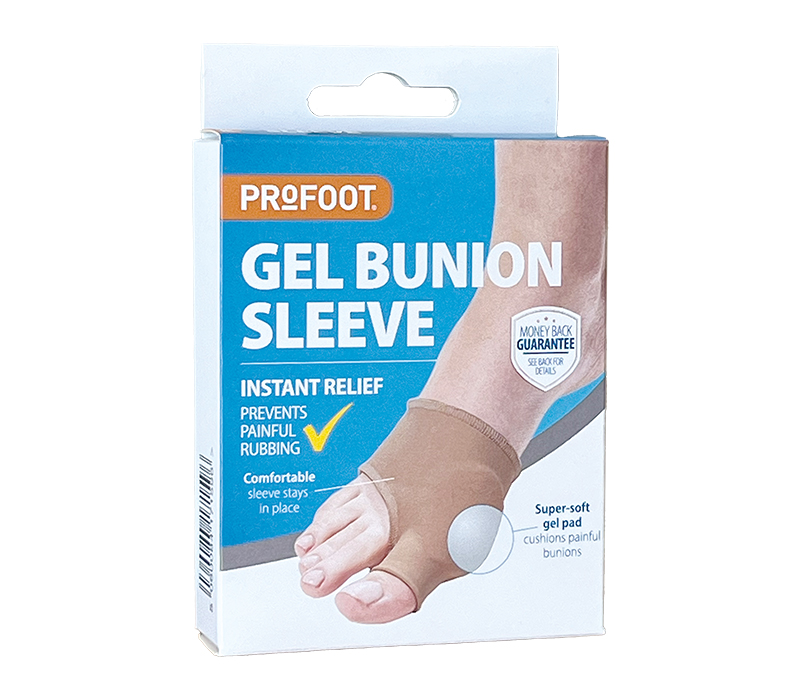 Find Fast Relief from Painful Bunions
The Profoot Gel Bunion Sleeve is an excellent solution for those who suffer from painful bunions. Our polymer gel technology reduces pressure and friction in the affected area, providing fast and effective relief from bunion discomfort and pain.
It features a super-soft gel pad that cushions painful bunions, providing instant relief. The comfortable sleeve fits either foot and stays in place for extended periods, ensuring lasting comfort throughout the day.
It is also washable and reusable, which means you can keep it clean and ready for use whenever you need it.
Try it today and feel the difference.
Key Features:
Instant relief from painful bunions
Fits left or right foot
Super-soft gel pad cushions painful bunions
The comfortable sleeve stays in place
Washable and reusable
Available at the following stores:
Find your local Pharmacy
How to use a Gel Bunion Sleeve:
Slip sleeve over the foot and feed the big toe through the hole as shown on the packaging.
Warnings:
If you have diabetes or poor circulation, please consult a medical professional before using. If pain, numbness or irritation occurs, discontinue use immediately. Not to be used as a bandage on broken skin.
Keep out of reach of children.
Care:
Carefully wash with water and mild soap. Air dry only. Replace the Bunion Sleeve when the gel has eventually worn thin.
Money Back Guarantee:
This product is eligible for a full refund if returned within 30 days of purchase. Visit our Money Back Guarantee Page to learn more.
Learn more about Footcare
Follow the buttons below for articles on how to look after your feet.